Results section of the Project tab
As discussed in the earlier chapters, the Project tab within the Robot UI displays all test assets, including the Results.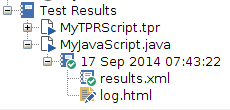 The Results section of the tree is organized firstly by script name and then by execution date. However, the structure can be altered through a right click on the Results root node, to represent a 'flat' file list.
Also, in the right click menu, you will find a number of other options, as follows: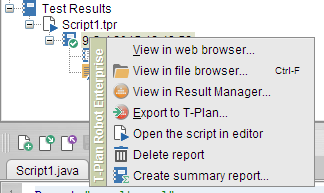 View in web browser opens the XML file, according to the accompanying XSLT (stylesheet). By default the standard XSLT will allow to view the report in HTML.
View in file browser opens the project directory containing the output files for that particular execution.
View in Result Manager will pass the XML to the Result Manager window and display it accordingly.
Export to T-Plan represents the integration to T-Plans Test Management Tool, "T-Plan Professional".
Open the script in editor opens the related script for edit.
Delete Report will delete the entire output for this execution run, including the XML, XSLT, screenshots, etc. The entire folder will be deleted.
Create Summary Report allows include all currently selected results (multi-selected) into a consolidated summary report. This report contains high level summary and a link to each specific execution report.