Installing Main License Server License
It is important to understand that there are two levels of license...
A License Server license - this determines the access and usage of the License Server itself and also determines what type and how many session licenses can be generated within your license server.
A Session license - this controls the access and number of sessions available for your Robots.
Below we are discussing the installation of a "License Server license" only. The next topic will continue to discuss the Session licensing.
When you first log into the License Server you will be presented with a screen asking you to install a License Server license. This is the license which controls the main License Server usage.
Without a valid License Server license Robot sessions will not be granted.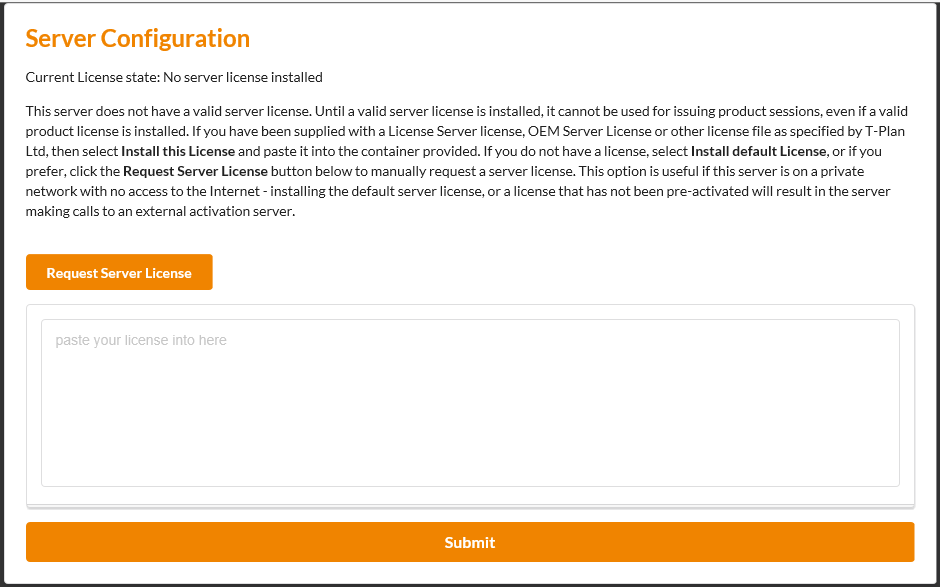 Isolated Networks
---
If you are running the License Server on an isolated network (with no internet access) then you should select the option to "Request Server License".
Example of the popup window:

Copy the displayed License Code and send it to T-Plan Support who can issue you with a pre-activated license. Simply copy the contents of the provided license and paste it into the main text field, and select Submit.
Standard Network
---
You should have been provided with a License Server license. Please copy the content of this license using any text editor and paste it into the main text field.
Once you have entered your license string click "Submit" to authenticate the supplied details with our T-Plan servers and activate your License Server.
At this point your server will need to be able to communicate with the follow URL: https://licensing.t-plan.com. For situations where this is not possible please contact our Support team who can provide a pre-activated license. See "Isolated Networks" above.
Confirmation
---
If your license successfully activates you will be presented with the logon details you must use moving forward, make a note of these and keep them safe as you will not be able to logon to the License Server without them. You will be required to immediately log back into the License Server using these provided credentials.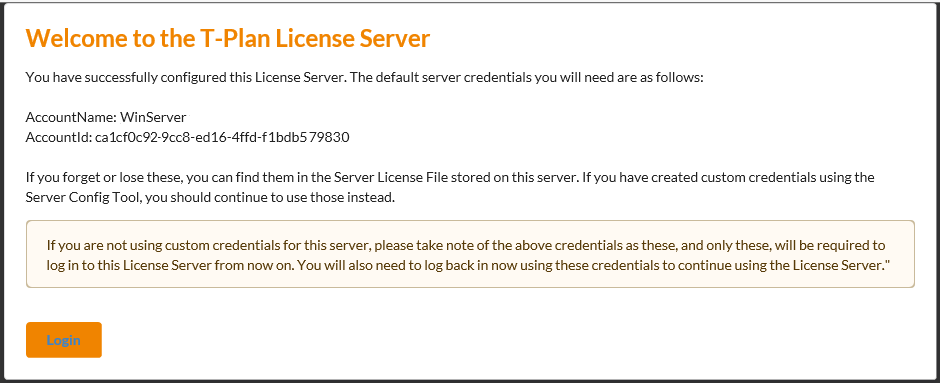 ---
Contents of this documents:
Other documents: